Watson Review - Summer 2016 The Thomas J. Watson School of Engineering and Applied Science

By Ben Meyers
Virtually Interacting With Books and Exhibits.
Libconf.com Information Today, Inc. Blog


By Don Hawkins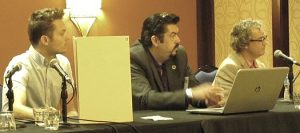 Juan Denzer and Ben Andrus from the Binghamton NY University Libraries described their Atenaeum in Motion (AIM) Project, which was initiated after the Dean of Libraries went to the National Library of China, saw a prototype newspaper reader using the Kinect system, and upon his return, asked the systems department if they could develop a similar system. Juan investigated and found that Kinect required awkward motions to turn pages, so he tried a device by Leap Motion which was much smaller and better: the user just sits in front of a computer or screen and uses conventional hand motions to turn pages. Juan therefore approached Ben to get content.
Penfield Library Celebrates Milestone. The Oswegonian


By Samantha Flavell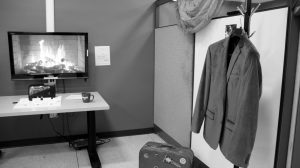 Penfield Library celebrated its 50th anniversary in its current building in the center of campus on Oct. 27.
The current building that Penfield is housed in was opened in 1968. Prior to that, the library had been housed in Rich Hall on east campus.
The event was held on Oct. 27 between 11 a.m. and 3 p.m. to commemorate the library's half a century of service to Oswego State students and to thank the campus community for support. There were a variety of activities held during the four-hour event, including a used book sale, scavenger hunt, "into the past" photo booth, Penfield Memories recording and viewing stations and photos from special collections and archives.The event was held the same weekend as the college's Friends and Family weekend, which allowed for students and their families to enjoy the event and learn about the history of the library in a fun and interactive setting.