Terrific Makerspace Projects: A Practical Guide for Librarians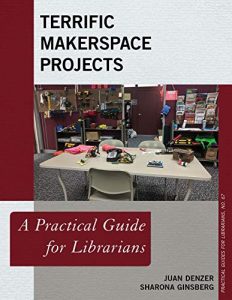 Denzer, J., Ginsberg, S. (2020). Rowman & Littlefield Publishers.
This book outlines maker projects in detail and provides plenty of photos and resources so
readers can recreate, customize, and implement them. People at all skill levels in every type of
makerspace will find something they can try, with projects that range from simple and low-tech
to more complex and tech-heavy. Most projects are inexpensive, taking advantage of free online
tools, upcycled or repurposed materials, and low cost electronics such as Arduinos.
Each project can be approached as an offering for makerspace visitors or can be created by
library employees themselves as tools to engage in outreach and promote the makerspace, library
services, the institution, and more. Every project has been created and tested in a real library
setting by the authors, who present lessons learned, possible variations, and different ideas on
how to implement the projects to their fullest extent. Explore the idea of using the makerspace to
highlight the value of other library services, or simply find new and fun ways to engage with
your users.
The book is also packed with bonus content, including case studies from other libraries of similar
projects being used for marketing and promotion purposes, as well as suggestions on how to be a
great maker, and tips on makerspace safety, finding low-cost materials, and more. Whether
you're just beginning your makerspace or looking for fresh ideas for your established space, this
book has something to offer.
Experiencing medieval manuscripts using touch technology
Denzer, J. & Gallant, K. (2016). College & Undergraduate Libraries. [Peer-reviewed]
Arduino boards, a current trending open-source platform technology, are being used by museums and other institutions to create interactive exhibits for their patrons. Academic libraries are often faced with the challenge of finding new inspirations to educate and engage patrons. The Illuminated Lifestyles exhibit at Binghamton University was an attempt to teach library users about the sensory experiences of medieval manuscripts using touch technology. Relatively inexpensive, these boards can be incorporated in various ways to make an exhibit interactive. In this case, the boards were used in conjunction with large-scale frames covered with digitized replicas of manuscript leaves that spoke to the viewer as they touched the images. This case study explains the technology and platforms used within the exhibit and what the long-term impacts and benefits, if any, the library experienced.
Digital collections and exhibits
Denzer, J. (2015). Rowman & Littlefield Publishers.
Today's libraries are taking advantage of cutting-edge technologies such as flat panel displays using touch, sound, and hands-free motions to design amazing exhibits using everything from simple computer hardware to advanced technologies such as the Microsoft Kinect. Libraries of all types are striving to add new interactive experiences for their patrons through exciting digital exhibits, both online and off. Digital Collections and Exhibits takes away the mystery of designing stunning digital exhibits to spotlight library treasures by walking the reader through implementation projects that are sure to astound and impress.
Create a 3D Touch Display for the Library
Denzer, J. (2018) . 63 Ready-to-Use Maker Projects. The American Library Association. [Book Chapter]
This new compilation from editor and maker Kroski spotlights a multitude of creative projects that you can tailor for your own library. Librarians and makers from across the country present projects as fun as an upcycled fashion show, as practical as Bluetooth speakers, and as mischievous as a catapult. Included are projects for artists, sewers, videographers, coders, and engineers. The handy reference format will help you quickly identify the estimated costs, materials, and equipment; and because several projects don't even require a dedicated makerspace, every library can join in.
How to Add a High-Tech Twist to Your Escape Room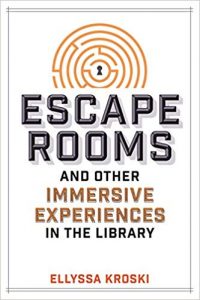 Denzer, J. (2018).  Escape Rooms and Other Immersive Experiences in the Library. The American Library Association. [Book Chapter]
By one count, there are more than 7,200 escape room environments in 1,445 cities in 105 countries. So why not in libraries? Sharpening participants'; problem solving and collaboration skills by mashing up real-time adventure, immersive theater, gaming, and old-fashioned entertainment, they're a natural for libraries. And, as Kroski demonstrates in this fun guide, they're feasible for a range of audiences and library budgets. Whether you're already an escape room aficionado who's eager to replicate the experience at your own institution, or an intrigued novice looking for ways to enliven your programing, Kroski has got you covered. 
Protecting Content from Hackers: How Our Institution Went from Most Hacked to Zero Breaches.
Denzer, J. (2018) . Computers in Libraries. Information Today, Inc. [Journal Article]
EZproxy is a proxy server that alters a vendor's database URL and redirects traffic through that server to give a patron access to content. The system uses a simple username and password to authenticate. There is no need to create a separate account for each provider. In very rare instances, an institution might use a two-step verification with EZproxy. In addition, libraries don't use an annoying CAPTCHA. Patrons are able to seamlessly access content by signing in once per browsing session. EZproxy is an authentication system that is easy to set up and manage. It is owned and maintained by OCLC, and there is an active listserv. EZproxy is a great way for vendors and libraries to provide access to content. It is used by practically all academic libraries. The EZproxy community works together in sharing knowledge with those who are beginners and experts.
The digital humanities : implications for librarians, libraries, and librarianship
Denzer, J. & Gallant, K. (2019) Experiencing medieval manuscripts using touch technology. The digital
humanities : implications for librarians, libraries, and librarianship. Routledge [Book Chapter]
The digital humanities in academic institutions, and libraries in particular, have exploded in recent years. Librarians are constantly developing their management and technological skills and increasing their knowledge base. As they continue to embed themselves in the scholarly conversations on campus, the challenges facing subject/liaison librarians, technical service librarians, and library administrators are many.
This comprehensive volume highlights the wide variety of theoretical issues discussed, initiatives pursued, and projects implemented by academic librarians. Many of the chapters deal with digital humanities pedagogy—planning and conducting training workshops, institutes, semester-long courses, embedded librarian instruction, and instructional assessment—with some chapters focusing specifically on applications of the "ACRL Framework for Information Literacy for Higher Education." The authors also explore a wide variety of other topics, including the emotional labor of librarians; the challenges of transforming static traditional collections into dynamic, user-centered, digital projects; conceptualizing and creating models of collaboration; digital publishing; and developing and planning projects including improving one's own project management skills. This collection effectively illustrates how librarians are enabling themselves through active research partnerships in an ever-changing scholarly environment.
This book was originally published as a special triple issue of the journal College & Undergraduate Libraries.
Proceedings. Charleston Library Conference
Denzer, J., Francis, S., Hamparian, D. (2018). 'Publishing Community Efforts and Solutions to Mitigate the Risks Sci-Hub Poses to Researchers, Librarians, and Publishers'. Proceedings. Charleston Library Conference, Charleston, South Carolina, 5-9 November. [Conference Proceedings]
The Charleston Conference is an informal annual gathering of librarians, publishers, electronic resource managers, consultants, and vendors of library materials in Charleston, SC, in November, to discuss issues of importance to them all. It is designed to be a collegial gathering of individuals from different areas who discuss the same issues in a non-threatening, friendly, and highly informal environment. Presidents of companies discuss and debate with library directors, acquisitions librarians, reference librarians, serials librarians, collection development librarians, and many, many others. Begun in 1980, the Charleston Conference has grown from 20 participants in 1980 to over 1,400 in 2011. Proceedings of the conference published since 2009 are made openly accessible through the support of Purdue University Libraries, the parent organization of Purdue University Press, a unit of the Libraries.